Planning for Your Stay at Woodside Cottages of Bayfield
With respect for our guests' privacy, we do not provide daily housekeeping services
In All Cottages, You Will Have the Following
Bed Linens, Pillows
Bath Towels, Hand Towels, Wash Cloths (but bring your own beach towels)
Air Conditioner/Gas Fireplace
Wifi
Cable TV
Ceiling Fan(s)
Coffee Cups, Glassware
Coffee-Maker
Coffee (REG-DECAF filter-packs ~ no loose coffee or filters)
Hair Dryer
Hand Soap
Microwave
Paper Towels, Facial Tissues, Toilet Paper
Refrigerator
Shower Gel, Shampoo (no conditioner)
Add'l Included In Cottages with Kitchens (7, 8, 9, 10, 11, 12)
2-Burner Stove-Top (NO Oven)
Standard Refrig W/ Freezer (b.y.o. ice)
Dishwasher & Dishwasher Pods
Toaster
Eating/Cooking Utensils, Can Opener
Plates, Glassware, Pots & Pans
Dish Towels, Dish Cloths, Dish Soap
Charcoal Grill (b.y.o. charcoal/lighter fluid)
Not supplied: salt/pepper, spices, condiments, storage containers/bags, disposable tableware
Cottages 1 – 6 and 14 with Kitchenette
MICROWAVE
Mini-Fridge
Coffee-Maker
Kitchenettes are not equipped or stocked as kitchens.
NO COOKING IS ALLOWED INSIDE COTTAGES 3, 4, 5, and 14, EXCEPT MICROWAVE. We offer Cottages with kitchens if you prefer the convenience of home-cooking during your stay.
Additional Information:
We now have a PAVILION with 2 Gas Grills, 1 Large Charcoal Grill, and picnic tables for our guests to use! More reasons to enjoy the great outdoors Grilling, Picnicking, and Gathering!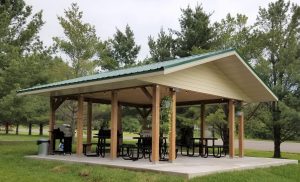 BAGS OF ICE can be purchased in downtown Bayfield at Superior Petrol (gas station), Andy's Market, or Pier Plaza.
THERE ARE NO GUEST LAUNDRY FACILITIES ON SITE. We recommend "Friendly Bubbles" Laundromat, located in Washburn, WI.
There are 3 CAMPFIRE PITS on the property: The fire pit at the north end of the property (near Cottage 1) is available for use by all guests. Rental of Cottage 12 or 14 includes use of their own private fire pit. We provide a bundle of firewood for each fire pit each day. Additional bundles of firewood can be purchased at Andy's Market in downtown Bayfield. Fire pits are open/maintained May 1 – Nov 1.